First Time Buyer Program | Tulare, CA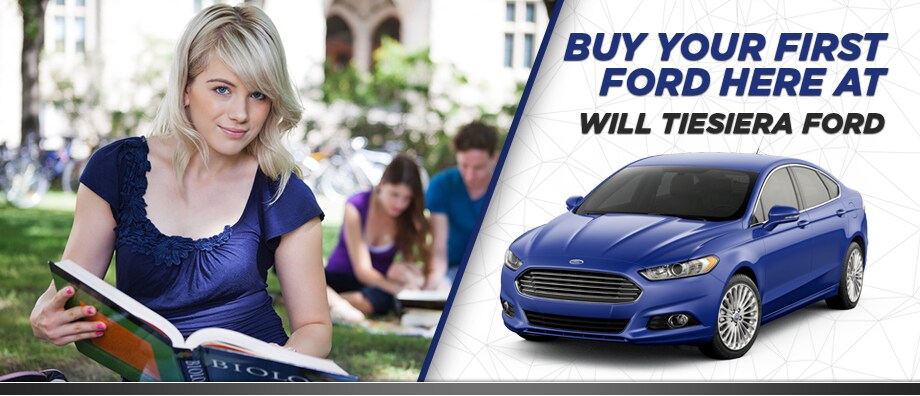 Ford First-Time Car-Buyer Program near Fresno, CA
At Will Tiesiera Ford, we want to ensure that every driver who visits our lot is as pleased with their financial plan as they with their purchase. We know that buying a car can be a tricky process, especially for those who have never done so before. That's why our Ford dealership near Fresno, CA, is proud to offer the Ford First-Time Buyer Program, letting car-shopping newbies rest at ease and stay within their budget when buying their first-ever new Ford vehicle.
When you take advantage of the Ford First-Time Buyer Program, you can receive up to a $500 matching down payment on select new Ford vehicles for purchase or lease. That means you could drive home in a new Ford Fusion or Focus sedan, Escape or Explorer SUV or F-150 truck with an extra $500 in your pocket!
To be eligible for the Ford First-Time Buyer Program, you need to meet the following criteria:
- Confirmation of no prior automotive credit on their bureau
- Confirmation of no major derogatory credit
- Minimum verifiable full-time six months on current job
- Vehicle payment cap is $400 per month
- Maximum advance of 100% of dealer invoice
- Minimum $500 cash down (excluding dealer or manufacturer rebates, can include trade equity)
- Limited to new Ford and Lincoln vehicles
- Maximum term is up to 75 months (low APR and standard rate) where applicable
For a complete list of qualifying guidelines, read here.
Once you're done exploring the financial advantages that await you at Will Tiesiera Ford, take a moment to read over these three tips we have for first-time car buyers!
Prioritize Your Wants and Needs
When deciding on the Ford model that suits you best, take qualities such as fuel-efficiency, safety, performance and technology into consideration. Also, be sure to weigh your driving habits, how certain technologies and features will enhance your drives and what you'll be using your car for most often.
Think About Your Budget
It's important to carefully consider how much you want to and can pay for your car on a monthly basis. In addition to the amount you'll pay toward your car loan or lease, also consider costs like tolls, gas, taxes, insurance and maintenance. Have questions about whether buying or leasing makes the most sense for you? Our Ford finance team is happy to help you decide!
Take A Test-Drive
After narrowing down your options, come to our Ford dealership in Tulare, CA, to test-drive the car, SUV, truck or van you think will be right for you. You're smart to do research before you visit our lot, but nothing compares to getting behind the wheel yourself!